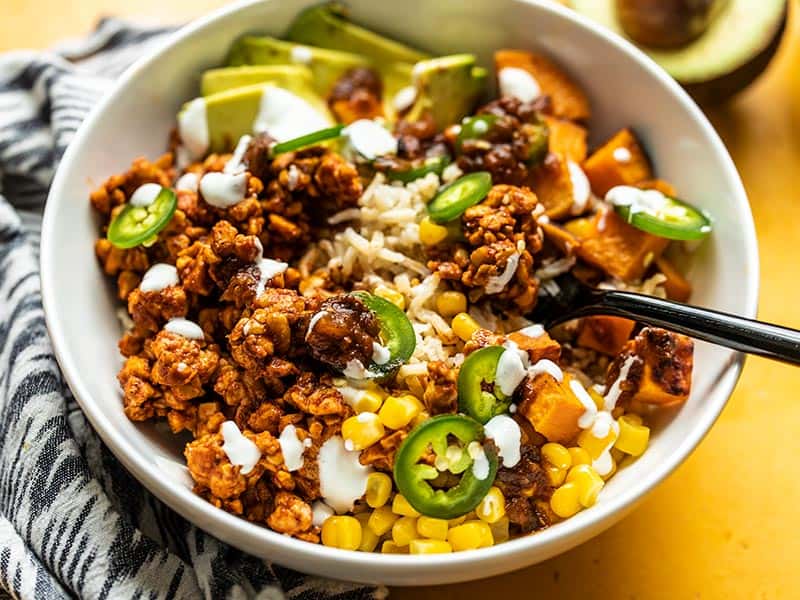 This week we're switching it up with a Tempeh Burrito Bowl that's totally homemade and totally delicious. Feel free to customize this as you please with different vegetables or meat substitutes.
Prep Time: 15 mins Cook Time: 20 mins Total Time: 35 mins
Ingredients
Roasted Sweet Potatoes
1 sweet potato (about 1 lb.)
1 Tbsp cooking oil
Seasoned Tempeh*
8 oz. tempeh
1 cup water
1 Tbsp cooking oil
1 Tbsp tomato paste
2 tsp chili powder
1/2 tsp smoked paprika
1/2 tsp cumin
1/8 tsp cayenne
1/4 tsp oregano
1/4 tsp garlic powder
1/2 tsp salt
freshly cracked pepper
Bowl Ingredients
4 cups cooked rice
1/2 cup salsa
1 cup frozen corn kernels, thawed
1 jalapeño
1 avocado
1/4 cup sour cream
Instructions
Preheat the oven to 400ºF. Peel and dice the sweet potato into 1/2-inch cubes. Spread the cubes out onto a baking sheet, drizzle with oil, then toss to coat. Season with a pinch of salt.
Roast the sweet potatoes in the preheated oven for 20 minutes, stirring half way through. Once roasted, set aside.
While the sweet potatoes are roasting, prepare the seasoned tempeh. Crumble the brick of tempeh into a skillet. Add the water, oil, tomato paste, chili powder, smoked paprika, cumin, cayenne, oregano, garlic powder, salt, and some freshly cracked pepper (about 10 cranks of a pepper mill). Stir briefly to combine.
Place a lid on the skillet and turn the heat on to medium. Allow the skillet to come up to a simmer. Let the tempeh simmer, stirring every few minutes, for about 10 minutes total, or until the liquid reduces to a thick sauce.
While the tempeh is simmering, slice the avocado and jalapeño.
To build the bowls, place 1 cup cooked rice in the bottom of each bowl. Divide the seasoned tempeh, roasted sweet potatoes, corn, and avocado between all four bowls. Top each bowl with 1 to 2 tablespoons of salsa, 1 tablespoon of sour cream, and a few slices of jalapeño. Eat immediately or refrigerate for up to 4 days.
For pictures and more information check out the original recipe at BUDGETBYTES