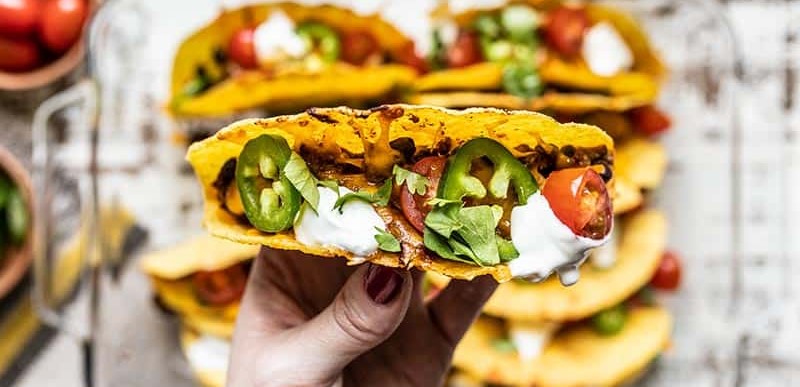 Baked Beef and Black Bean Tacos are a fast and easy way to take Taco Tuesday to the next level and is the perfect fast and easy weeknight meal.
Prep Time: 15 mins Cook Time: 20 mins Total Time: 35 mins
Ingredients
Taco Seasoning
1 Tbsp chili powder
1 tsp smoked paprika
1 tsp cumin
1/2 tsp oregano
1/4 tsp cayenne
1/2 tsp salt
Freshly cracked pepper
Tacos
1 Tbsp cooking oil
1 yellow onion
2 cloves garlic
1/2 lb lean ground beef (93% lean or higher)*
15 oz can black beans
1 box 10 hard taco shells
1 cup shredded cheddar (4oz.)
Optional Toppings
1 tomato
1 jalapeño
Handful fresh cilantro
1/4 cup sour cream
Instructions
In a small bowl, combine the ingredients for the taco seasoning, then set the seasoning aside (or use one envelope of store-bought taco seasoning). Preheat the oven to 400ºF.
Dice the onion and mince the garlic. Add the onion, garlic, and cooking oil to a large skillet. Sauté the onion and garlic over medium heat until the onion is soft and translucent (about 5 minutes). Add the ground beef and prepared taco seasoning and continue to sauté until the beef is cooked through (another 5 minutes).
Arrange the taco shells in a casserole dish so they are all standing upright. If you do not have a dish that fits them snuggly enough to hold them up, use balled up aluminum foil to act as "book ends" to help hold the line of tacos upright.
Drain the can of black beans well, but do not rinse them. A little sauciness helps keep the beef mixture moist.Stir the beans into the seasoned beef and allow them to heat through.
Fill the tacos with the beef and bean mixture. Sprinkle the shredded cheese over top. Bake the tacos in the preheated oven for 7-10 minutes, or until the cheese is melted and the taco shells are golden brown on the edges.
While the tacos are baking, dice the tomato, slice the jalapeño, and roughly chop the cilantro leaves. Sprinkle the diced tomato, jalapeño, and cilantro over the tacos, and add a dollop of sour cream just before serving.
NOTES
*If using a higher fat beef, brown the beef without the taco seasoning first, then drain the excess fat. After draining, add the taco seasoning and sauté for about one minute more before moving onto the next step.
Source: BudgetBytes