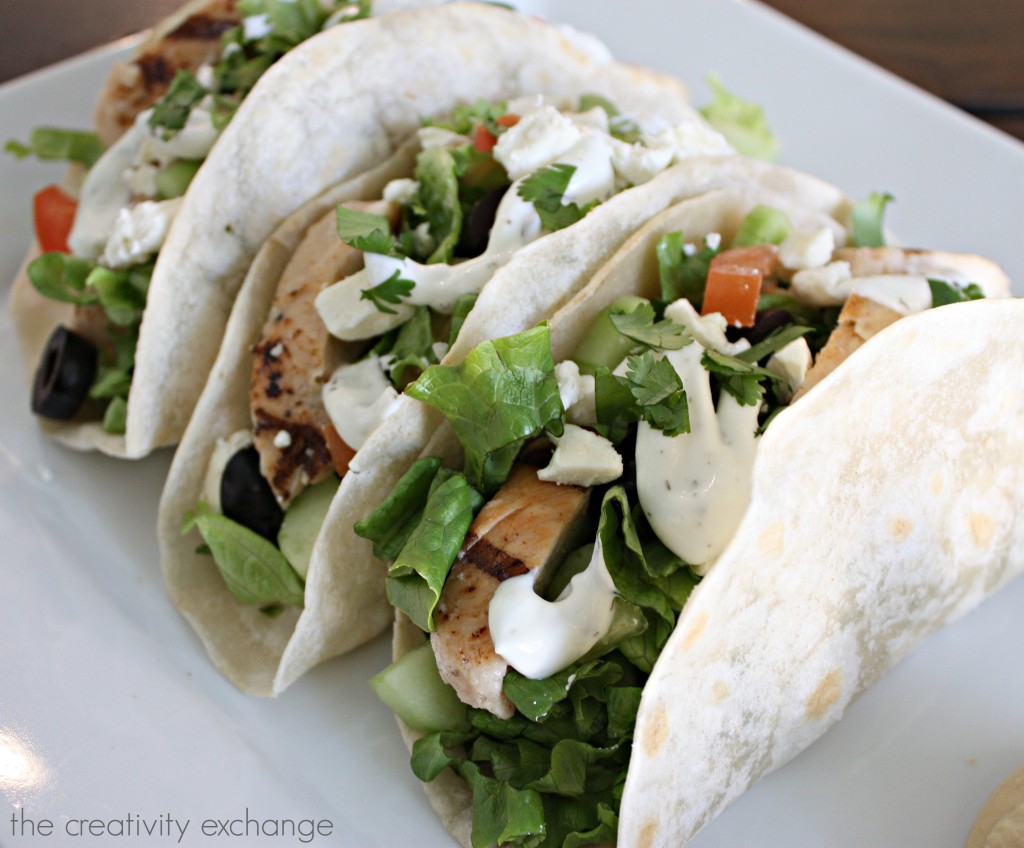 We're not sure if this is more of a salad or taco but either way it's delicious. They're a nice light dinner or lunch option that'll leave you feeling like you're on the Mediterranean coast.
Recipe Serves 4 (8 tacos)
Ingredients
2 Cups Grilled Chicken
4 Cups Cut/shredded Romaine Lettuce
1 Cup Diced Tomatoes
3/4th Cup Diced Cucumbers
1/4th Cup Diced Cilantro
1 Cup Feta Cheese Crumbled
1/2 Cup Sliced Black Olives
1/2 Cup Ken's Greek Dressing
1 Cup Dannon Oikos Dips Cucumber and Dill (sold in the refrigerated section with the party dips)
8 Flour Tortilla's
Instructions
Toss all of the ingredients together for the salad except leave the feta and the cucumber dill dip/dressing until you get the salad into the tacos. The cucumber dill dip is made by Dannon and is an Oikos dip that has become a favorite of mine. If you've never tried it before, it's sold in the refrigerated section with the other party dips but its a Greek yogurt dip. If for some reason you cannot find it, you can mix together dill weed, plain greek yogurt and little hint of salt for a similar dip.
If you've never tried a refrigerated tortilla before that has to be cooked, let me tell you that it's life changing. All you have to do is heat them up for about a minute on each side and they are unbelievable good and light. It's all I will use now.
After you toss the salad, fill your tortillas with the salad to make each taco and top with the feta and drizzle of the dip and you are good to go. If you want to make these for dinner and grill your own chicken, the Ken's Greek Dressing is the best marinade for chicken!
Source: The Creativity Exchange