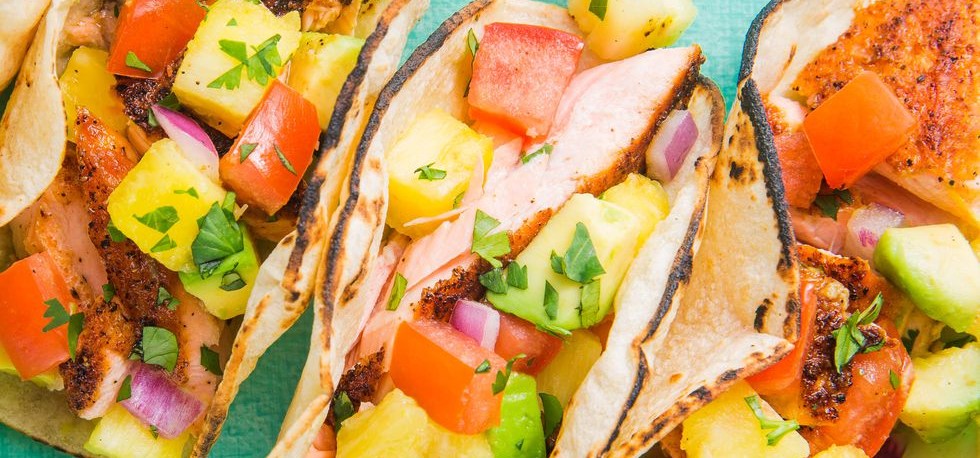 When days in the park and on the beach are being put on the calendar, I always start thinking about the beloved seafood taco. Hopefully this recipe becomes one of your favorite summer dishes!
Note: If you don't have Cajun spice, you can make your own! Just stir together some salt, pepper, cayenne, garlic powder, onion powder, paprika, and dried oregano before rubbing it on the salmon.
Ingredients For Salmon
1 lb. salmon
Kosher salt
Freshly ground black pepper
1 tbsp. Cajun spice
2 tbsp. extra-virgin olive oil
Ingredients For Salsa/Serving
1 cup diced pineapple
2 ripe avocados, diced
1/4 cup red onion, diced
2 small tomatoes, diced
Juice of 1 lime, plus wedges for serving
Freshly chopped cilantro, for garnish
6 corn tortillas, warmed or grilled
Instructions
Pat salmon dry, if necessary, then evenly season all sides of the filets with salt, pepper, and Cajun spice.
In a large skillet over medium heat, heat oil. When oil is hot but not smoking, add salmon. Cook until deeply golden, about 5 to 6 minutes, then flip and cook for another 2 to 3 minutes, until salmon is opaque.
Let rest and cool slightly, then flake into large pieces.
Make pineapple avocado salsa: In a medium bowl, add mango, avocado, onion, tomatoes, and lime juice. Season with salt and toss to combine.
Assemble tacos: Top tortillas with salmon, avocado salsa, and cilantro. Serve with lime wedges for squeezing.
Source: Delish