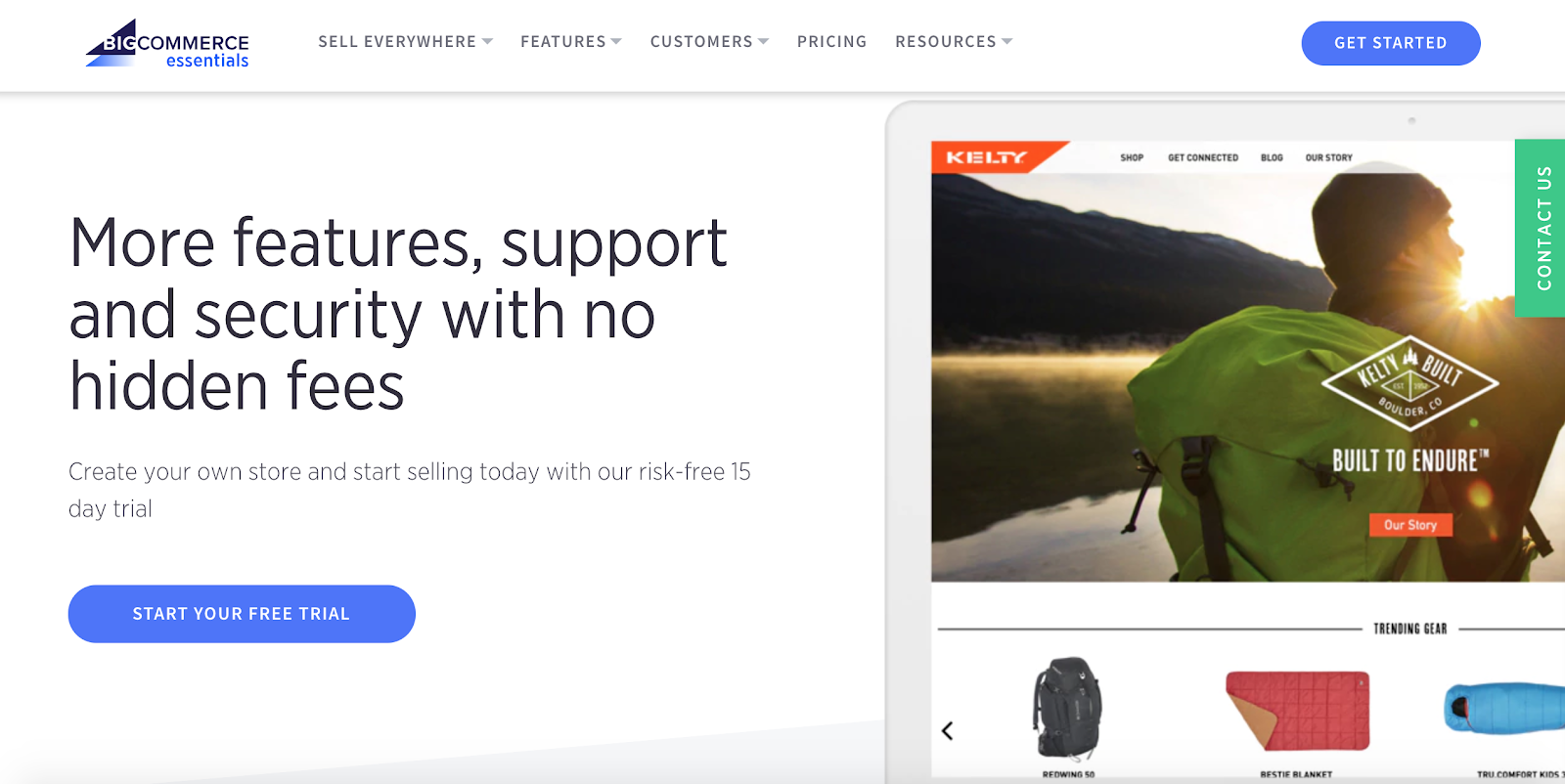 BigCommerce is an all-in-one e-commerce platforms that offers a wide variety of tools and solutions for businesses of all sizes. It provides users with a large amount of scalability and has some of the best built-in features of an e-commerce platform. BigCommerce can seem quite intimidating as a first time user, but follow the steps in our tutorial and you will have your website up and running in no time!

Step 1: Set Up Your Account
When first starting to use BigCommerce, they give you a 15-day free trial to try the software. To access this trial, simply go to the homepage and click the "get started" button in the top right hand corner.

After that, you must fill out some information to get started. They will ask you for an email, a password, and some general information about your business. This will help BigCommerce set up your demo website. It only takes a few minutes after you submit all of the info to have your initial website created.

Step 2: Follow the BigCommerce Dashboard Tour
When accessing your new site for the first time, the BigCommerce dashboard will prompt you with the option to take a tour of your new dashboard. We found this tour to be very beneficial and will cover the basic layout of the software. It will cover topics such as marketing, sales, and how to manage orders for your business.

Step 3: Store Name & Address
If these details were not entered at the start, the set-up wizard will prompt you to add this information. You can access this information by clicking on "Update Your Store Settings." Under this section you will be able to add a name, address, phone number, and other contact information.

In this section you are able to mark your site as "Down for Maintenance". This will allow for your site to display this message until you are ready to unveil it to the internet and all of your prospective customers!

Step 4: Choosing Your Theme & Logo
The templates that BigCommerce offers for its users are known as "themes." You are provided with two free themes. These themes are modern and responsible, but have fairly basic features. If you are looking for more options, there are themes that you can pay for. The price for paid themes range from a one time payment of $150 – $300 per theme. Paid themes offer more layout and options compared to the free options. If you are unsure about a paid theme, you can view what it would look like on your individual website before you purchase.

It is important to note that when you change from one theme to another, any customization will be deleted. This means that you will need to keep track of what you have been adjusting to your current website before you switch to a new theme.

On the left-side menu, right below themes, there will be a tab called "Logo." Click this and it will allow you to upload your company's logo.

Step 5: Add Products
Now that you have set up your store to make it visually stunning, it's time to add some products to the shelves.

To start this process, the first thing you need to create are the product categories you would like reflected on your online store. To add categories, click on "Product Categories" under the "Product" page. Your demo store will have some pre-loaded categories based on the type of store you chose. You can delete the ones you don't need, and add others. Under each new category, you need to add a name, URL, and description to the category.
Once you have your categories set, it's time to add your products. First you need to click on the "Add" tab under the products drop-down menu. Once you click on this, you will see multiple different fields to add your product information. The most important aspects to add when first entering product information is:

Product Name
Sku number
Price
Product Image(s)
Item Weight
Item Variations
Product descriptions

After you enter a few products into your store, you can view them all in a list by "view" under the products drop down menu. Under this list you will also see the demo products that BigCommerce added, you can delete these the same way that you delete the preloaded categories. If you need any extra help loading products into BigCommerce, you can find more information here.

Step 6: Shipping Rates & Methods
It's almost time to start selling products online, but you first need to figure out how you're going to ship products to customers. To set this up, head over to "Store Setup" and then click on "Shipping."

The first set of information you are asked to enter is the businesses address. After that it's time to set up what you would like to charge for shipping. Some business offer free shipping on all orders, or none at all. If you decide you want to charge for shipping, the easiest way to do it is by offering a flat rate shipping price. To set this up, you click on the "Flat Rate" shipping option, you can decide what you would like to charge for each order that you are shipping.

While setting shipping up, you should also set up your payment options. BigCommerce offers its own payment processing service, or if you already have one set up, you can use that too. To find the payment options, click on "Accept Credit Cards & Paypal". From here, if you would like to use BigCommerce's payment service, you can set it up. If you already use Square, Paypal, or another merchant account, you can set it up below.

Step 7: Store Information Pages
You are almost able to launch your website using BigCommerce! One of the last things you need to do is to fill out your store information pages. Having these pages will allow you to communicate your brand to customers and to help answer common questions. BigCommerce makes this process easy by providing a web pages section where you can customize information pages. A few of the most common store info pages are:

About Us
Contact Us
Shipping & Returns
Careers
Shipping
Returns
Order Status
Step 8: Launch Your Site
It's finally here, the moment you've been waiting for! After following all the steps listed above, you've added enough information to launch your e-commerce website. Click on the orange button that says "Launch Your Store." After you press this, your store will be live and you can start selling products!

Choosing Your Plan:
Once you've decided that you want to host your website through BigCommerce, it will be time to decide what plan is right for you. Three different monthly plans are offered, standard, plus, and pro. BigCommerce also has an enterprise option, this is a custom option for larger businesses that are looking to take their growth to a new level. All of the plans have different features to help suit small startups all the way up to large corporations. You can find out more about the BigCommerce plans, here.

Additional:
BigCommerce offers helpful resources for consumers on their website. They send out a weekly newsletter that is filled with helpful tips, strategies, and news happening in the ecommerce world. If you are looking for more specific information, BigCommerce offers helpful guides that you can download, and free webinars to watch. All of these resources can be used to help better understand the software and how it can be used to benefit your business. To find out more about this additional information, click here.

Wrapping Up
BigCommerce is a strong tool that can be used to take your business to the next level. It provides features that all businesses can use, at a top-tier price. The steps we have listed out above, will help you set up your website quickly and effectively. But these steps only scratch the surface of what BigCommerce is able to do. If you have any questions about setting up your new website with BigCommerce, feel free to reach out to our team.